Liquids and Powders Filling
Scapa Healthcare offers rapid liquid and powder filling solutions for over-the-counter drugs, medical devices, pharmaceuticals and cosmetic products. We have the ability to create custom small-to-medium scale batches of low-to-high viscosity creams, lotions and gels in tubes, jars, bottles and sterile wound care pouches to support companies in wound & ostomy care, consumer healthcare and cosmetic markets.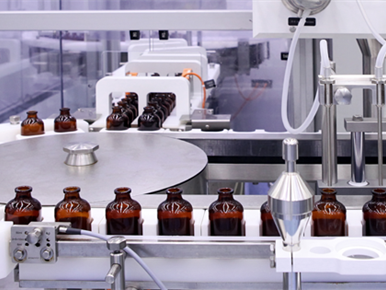 Rapid Liquid Filling
High speed, high viscosity tube filling
Manual filling
Tube filling (laminated and metallized)
Piston filling for jars and bottles

Sizes – 0.5 oz. - 55 gallon drums

Sterile wound care pouch filling
Beads filling
High speed wrap and double sided labeling

lot, expiration and UDI bar codes
Rapid Powder Filling
High speed, high viscosity tube filling
Vials, bottles & pouches filling

Sizes – 25 mL or 1.0 oz. - 3.0 oz.

Powder, granules or flakes into vials
Side labeling
In-line weight check, printing
We have the ability to develop and produce hot filled solids and waxes for a variety of OTC drugs and personal care products including deodorants, lip balms and anti-chaffing sticks.
Hot Melt Wax
Hot fill molten sticks
Roller milling capacity
Deodorant and single stick hot melt formats
Sizes – 0.2 oz. – 16 oz.
We also offer contract mixing and filling units for highly effective disinfectant solutions, used to sterilize a wide variety of medical devices and instruments.
Rapid Liquid Filling
In-line loading
Bottle filling

Size – 5 litres
Up to 12 x 5 litres per minute

Capping
Labelling – front / rear / 2D variable batch
Manual vial incorporation into handle space
Vial presence verification
Casing, taping and palletization
Box in packs of 4 bottles