Scapa Healthcare to Showcase Comprehensive Capabilities and Products for Turn-Key Adhesive Solutions at MD&M West
22 Jan, 2018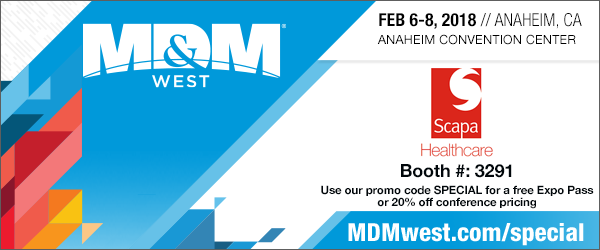 WHO:
Scapa Healthcare is a global strategic outsource partner trusted by healthcare industry leaders to design, develop, manufacture and commercialize skin-friendly turn-key solutions for advanced wound care, medical device fixation and consumer wellness markets.
WHAT:
Scapa Healthcare will be exhibiting its comprehensive product portfolios and end-to-end services and capabilities for complete, innovative adhesive solutions in booth 3291 at MD&M West.
Scapa Healthcare offers full turn-key development services for its partners, including design and dedicated project management; coating; converting, perforation and assembly; printing and packaging; sterilization; and robust global logistics services.
Its first-rate team of scientists, engineers and product managers are adept at formulating and working with silicone gels, polyurethane gels, hydrogels, hydrocolloids and acrylics, enabling its customers to select the optimal adhesive solution for their end-user's needs.
At the show, Scapa Healthcare will be debuting its new Soft-Pro® Low Trauma Hydrocolloid, the latest addition to the extensive Scapa Soft-Pro® portfolio of gentle skin contact adhesives. A proprietary, low-trauma adhesive with repositionable properties for sensitive skin applications, it is ideal for a full spectrum of users ranging from pediatric and neonatal to geriatric populations.
WHERE:
MD&M West
Booth 3291
Anaheim Convention Center
Anaheim, CA
WHEN:
MD&M West will take place February 6-8, 2018.
To schedule a briefing at the show please contact Sage Morander sage.morander@svmmarcom.com.
About Scapa Healthcare
Scapa Healthcare is a global strategic outsource partner of skin-friendly turn-key solutions for advanced wound care, consumer wellness and medical device fixation markets. Scapa Healthcare partners with market leaders to design, develop, manufacture and commercialize innovative skin contact solutions to meet end-user needs. For more information, visit: www.scapahealthcare.com