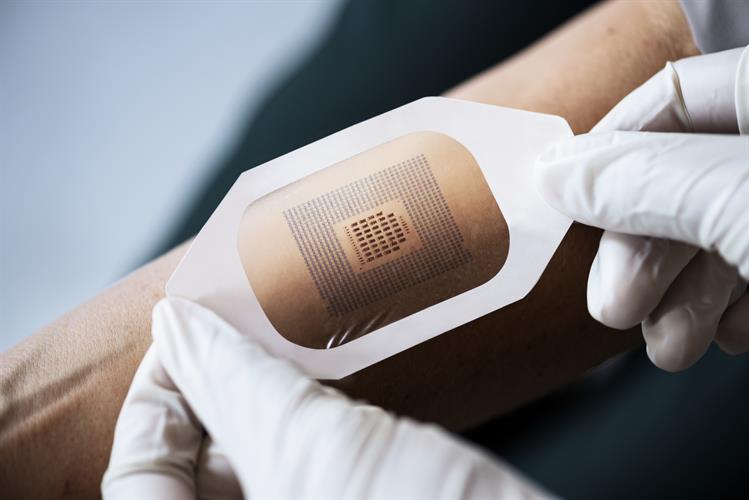 What to Consider When Selecting Adhesives for Medical Fixation Devices
There is a wide range of pressure sensitive adhesive (PSA) technologies and chemistries available to medical device product designers today. However, there is not one technology or chemistry that meets all requirements as the range of applications is also considerable. For example, a very gentle adhesive would be required for fragile skin while a very strong adhesive would be required to hold a cannula in place.
As a result, technologies or chemistries should be fine-tuned to meet a product's unique requirements. The factors that need to be considered are numerous and not just application based.
Key Factors When Coating Medical Adhesives
Functional needs – Including low pain upon removal (gentle), must stay in place (adhesion level), long or short wear time, sticking to broken or intact skin, and breathability.
Type of substrate – Film, foam, fabric, nonwoven, etc. Additional considerations include: does the medical device need to be a bacterial barrier or even anti-microbial? Does the material need to be stretchable or rigid?
Type of release liner – All PSAs need some type of release liner to prevent the adhesive from bonding to other items.
Product application needs – Factors include needs such as ease of identification (for the healthcare professional applying the device), ease of handling and application, easy to open packaging, easy to understand application instructions, suitable packaging for product shelf life, etc.
Final device application – For example, transdermal drug delivery, device fixation, wearable monitoring devices such as ECGs or continuous glucose sensors, and more.
Regulatory needs – Including biocompatibility requirements, other requirements such as California Prop 65, heavy metals, phthalates, BPA, free of animal derivatives and latex, etc.
Other needs - Type of sterilization to be used on the device, shelf life/storage stability, and cost.
Scapa Healthcare works closely with medical device manufacturers to understand the user requirements to select the correct adhesive and backing material for the device. We are constantly enhancing and expanding our adhesive capabilities to provide customers the latest advances in rubber resins, acrylics, hydrocolloids, polyurethanes, silicones, and hydrogel technologies in an evolving market.
Selecting the Right Substrate for a Medical Grade Adhesive
Generally, there are four main types of substrates used to develop a medical-grade adhesive and the selection will ultimately depend on cost, application, and performance. They are:
Foam backing – easy to handle, high breathability, excellent conformability and can provide cushioning.
Film backing – breathability (low to very high), great clarity if required, excellent conformability (can be challenging to apply), can act as a bacterial barrier and easy to print.
Nonwovens – high breathability, easy to handle and apply, easy to convert, often used to weld to other plastic materials and elastic variants available.
Others – cloth substrates, paper substrates and aluminum foils (microtiter plate market)
Recommended Coating Techniques for Medical-Grade Adhesives
Each adhesive coating company will have their own special techniques for coating the wide variety of adhesive technologies. The main criteria are machine and coating head cleanliness, as well as eliminating and reducing, wherever possible, the risks of contamination from the environment and other manufacturing processes.
The substrate and type of coating are also important aspects when coating any of these adhesives; although most adhesives are coated as a thin hole-free layer, the adhesives could be pattern coated if required. The adhesive could also be applied to the substrate either by direct coating or indirect (transfer) coating. When performing transfer coating, compatibility and wet out of the carrier are important aspects to factor into the product design.
Additionally, depending on the adhesive type and coat-weight, different processing temperatures are required to dry or cure them. For example, acrylic adhesives are available, dispersed in solvents or dispersed in water (emulsion acrylic). They might be coated via the same technique (knife over roll or reverse roll); however, they will need different drying ovens and safety measures. For the solvent adhesive systems, the lower explosive limits (LEL) need to be controlled, as the solvents are highly volatile and dangerous if not handled in a safe manner. Water-based adhesives do not have this issue; however, care must be taken with the type of drying ovens used, otherwise the machinery can start to rust and subsequently contaminate the adhesive.
There are also 100% solid systems where the adhesive is formed by a chemical reaction between two or more components. With these, the reaction is initiated by some other means such as the addition of a cross linking agent, or using a UV or radiation curing system, and thermal ovens can be used to accelerate the cross-linking process. With these, the adhesive will have a pot life once the reaction is started, so extra care and other techniques are utilized to ensure product consistency.
Recommended Testing to Assess Coating Performance
Depending on customer requirements, there will be some wear tests to check the adhesive's suitability for the application. Commonly used tests include:
Peel adhesion tests – The standard testing method - either a 90- or 180-degree angle, to a specific substrate (mirror finish stainless steel or glass or a defined plastic sheet or a film.)
Other tests – used at the design stage rather than as ongoing checks, such as shear adhesion tests: dynamic and static, tack tests to see how quickly the adhesive sticks to the substrate, etc.
As a generality, if the adhesive has been formulated correctly, applied at the correct coat-weight, and cured at the right temperature, the performance will be within the required specification.
As a leading medical adhesive coating manufacturer, Scapa Healthcare has extensive manufacturing know-how and multiple proprietary coating techniques to deliver consistent performance for different product configurations. Additionally, we recently announced expanded medical-grade adhesive coating capabilities in the Windsor, CT and Gargrave, UK facilities. This expansion strengthens our ability to offer solid vertical integration with other Scapa sites to provide better economies of scale to medical device manufacturers.
For more information on Scapa Healthcare's full offering of Adhesive Coating Capabilities, contact us directly at healthcare@scapa.com.
Read more about our Gargrave, UK and Windsor, CT-based adhesive coating capabilities and services.