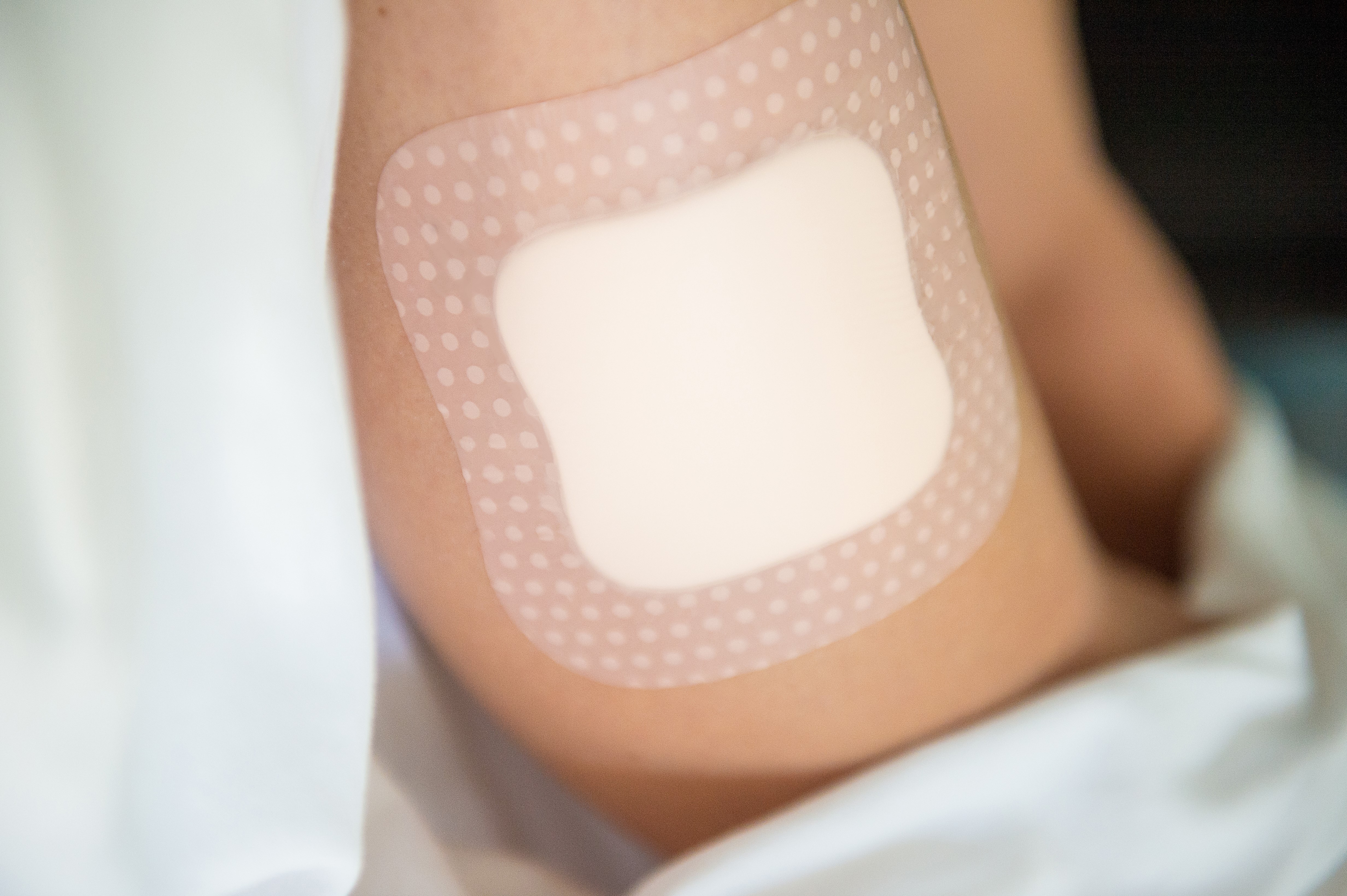 Benefits of Silicones and PU Gel Adhesives for Skin Fixation Applications
By Michael Nolan, Senior Product Development Scientist, Scapa Healthcare
Silicone and polyurethane (PU) gel adhesives are characterised by the low pain caused upon removal, their ability to be repositionable, as well as the cooling effect that patients experience. There are key differences between acrylic adhesives and these soft adhesive technologies and there are several benefits to consider when deciding which to use for a skin adhesive dressing.1-4
Acrylics are the most extensively used adhesive in the healthcare market1 and can be formulated and tailored to cater for a wide range of applications. Typically, they can exhibit strong adhesion to skin to provide a long, active wear time; they can have high moisture vapour transmission rates (MVTRs) to allow the skin to transmit moisture through the dressing, and they can exhibit a wide range of mechanical strength and elastic properties. Acrylics, both solvent and water-based, are widely used in the healthcare market and are used for applications such as general consumer dressings, advanced wound care dressings, ostomy applications as well as medical device fixation. However, acrylic-based adhesives are not suited for all applications. For direct application onto open wounds or for patients with delicate skin, polyurethane (PU) and silicone technologies may be more suitable.
Silicone and PU gel based products in skin adhesives are typically the product of choice for more delicate skin adhesive applications as they provide a unique balance of comfort, conformability, and adhesion.1, 3, 4 Dressings coated with silicone and PU gel adhesives can be applied directly to skin and open wounds; they can be repositioned with ease and removed with no trauma to either the wound or skin. In addition, the cohesive strength of the adhesive layer is strong and ensures it remains intact, leaving no residue behind. Atraumatic removal of a dressing during recovery allows the healing process to continue uninterrupted and consequently improves the quality of life for the patient. Most acrylic adhesives cannot reach such low peel adhesion values.
The use of silicone polymers for adhesives is a widely accepted technology and their purpose and applications are continuously evolving.1 The silicone polymers designed for the skin adhesive market are typically high in molecular weight and cure during the coating process using reactive crosslinking groups that allow for suitable chemical and physical crosslinking of the polymer chains. These silicone polymer designs result in an adhesive layer with suitable tack, cohesive strength, moisture resistance and biocompatibility which can be used for a variety of direct-to-skin applications, such as transdermal drug delivery, wound care and wearable medical devices.1, 2 However, there are a few downfalls of silicone technology which should be noted. Firstly, they exhibit a low MVTR, around 300 g/m2/24hrs, and the coated products usually require perforation to introduce pores to allow for breathability. This step greatly increases the cost of these products, however, as silicone adhesives are a widely accepted technology this price is generally accepted in the market. In addition, due to the nature of the cured gel they cannot be sterilised by gamma sterilization as this will affect the adhesive properties of the gel, so they need to be sterilized by Ethylene Oxide. PU gel adhesives provide a solution to the downfalls of silicone and bridge the gap between acrylics and silicones.
PU gel skin adhesives are not as commonly used as silicones, however their benefits should not be underestimated and the addition of a polyurethane-based product on a skin adhesive product range would have unique advantages.4 Like silicones, the applications of polyurethane gels help to reduce trauma upon removal but at the same time they also exhibit higher bonding strength and much higher breathability compared to silicones, around 1500 g/m2/24hrs, meaning perforation is not required and the overall processing cost is lower than silicones. They can also be sterilised by gamma sterilization as well as Ethylene Oxide. The raw materials required to prepare polyurethanes are also typically not as expensive as silicones, meaning they are a much more cost effective product.
A significant benefit of polyurethane technology is that the chemical composition of the polymer can be easily modified by tailoring the components involved in its synthesis.1, 4 There are many iterations of polyurethane adhesives for different applications. Changes to the ratio of the isocyanate and polyol in the polyurethane polymer will significantly influence mechanical properties such as its breaking strength and elongation. The molecular structure of each of these components can also be customized to target almost all key performance properties such as morphology, mechanical performance, adhesion and tack, cohesive strength, and hydrophobicity.
There are many factors involved during the synthesis, formulation, and processing of an adhesive coating to tailor the properties.1 During synthesis, the polymer backbone and functional groups will contribute to the desired morphology, which affects the mechanical and rheological properties of the adhesive. Then, an adhesive formulation can be designed by blending different polymers together and introducing active ingredients; then the key factors in producing the final adhesive properties are defined by the choice of curing conditions, coat weight and substrates during the coating process. In short, many factors are considered during the design process to tailor the adhesive layer performance for a customer's specific application and performance requirements.
There are clear benefits of soft adhesives in the medical adhesive market. We are always seeking to improve the quality of life of patients and the current and future technologies of silicone and PU gel adhesives help to meet those needs. Silicones are widely used and there is a clear need to utilise this technology for a wider range of applications, PU gels also exhibit clear advantages when considering some of the lower performing aspects of silicones and help to bridge the gap between acrylics and silicones.
References
G. K. Schalau II et al., in Silicone Adhesives in Medical Applications, ed. H. Ozer, Intech, 1st edn, 2018, ch. 6, pp 93-115.
H. S. Tan and W. R. Pfister, Pharmaceut Sci Tech Today, 1999, 2, 60-69
S. B. Lin et al., Journal of Adhesion Science and Technology, 2007, 7, 605-623
J. Joseph et al., The International Journal of Surface Engineering and Coatings, 2018, 3, 121-129