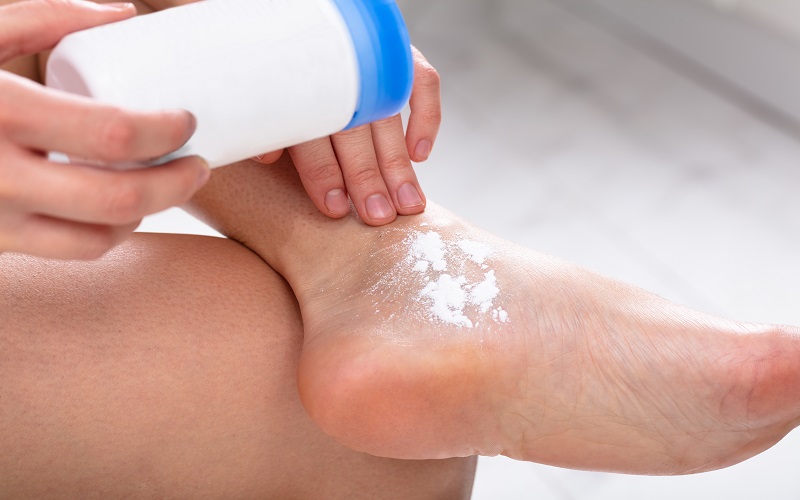 13 Oct, 2020
/
Category:
Consumer Wellness
Ostomy & Incontinence
What to Consider When Developing Custom Medicated Powders for Skin Care Needs
Scapa Healthcare's Anthony Castrogiovanni, Site Manager, R&D and Regulatory Affairs at the Dallas facility shared some expert input and insights on developing custom medicated powders for external use. Anthony holds a Bachelor's degree in Chemistry from S.U.N.Y Stony Brook and has been with Scapa Healthcare for more than two years.

Describe the research and development surrounding the formulation and capabilities of Scapa Healthcare's medicated powders.
Scapa has done extensive research into identifying and applying technologies from related industries that provides its clients, and ultimately the end consumer, with a true point of difference in medicated powders. Those technologies span the gamut from novel ingredients, to surface treatments of powders, to processing methods used to commercialize its finished products.

What makes a formulation "extra strength" like you see in the market options today?
The active ingredients (APIs) are incorporated at higher levels, while still being within the monograph dosage limitations.

What materials make up the Scapa Healthcare medicated powder formulas and how do they differ from other iterations in the market?
Scapa offers its clients various medicated powder renditions targeting specific consumer symptoms, or skin disorders. As such, some of the actives utilized in our formulas include miconazole nitrate, menthol, zinc oxide, and cornstarch (non-GMO) and other inactive ingredients might include tapioca starch, aloe vera, chamomile, salicylic acid, green tea extract, peppermint oil, and tea tree oil.

What conditions and symptoms are Scapa Healthcare's medicated powder formulas best suited to treat?
Scapa offers medicated powders to treat: (i) fungal infections such as athlete's foot, jock itch and ring worm; (ii) itching, scaling, cracking, burning, redness, soreness, irritation, discomfort and chafing associated with jock itch; (iii) superficial skin infections caused by yeast; (iv) foot and/or body odor caused by odor-causing bacteria; (v) excess moisture caused by incontinence, or sweating; (vi) diaper rash (vii) pain and discomfort associated with minor cuts, sunburn, insect bites, scrapes, prickly heat, minor burns, rashes, or minor skin irritations.

In what situations would you choose medicated powder over other treatment methods?
Medicated powders are ideal to manage excess moisture caused by incontinence, or sweating, as well as fungal infections, since use of other product forms, such as a lotion, can hold moisture on the skin instead of absorbing it.

There are many different variations of medicated powders in the market. How do consumers choose which one is right for them and know it will be effective? What should they look for when making their informed decision?
First and foremost, they should read the ingredients to make sure that they are not allergic to any of them. If uncertain, they should ask their pharmacist, or medical professional. Then, they should carefully refer to the "Drug Facts" panel on the OTC product to establish that its intended "Uses" suit their needs. Again, if uncertain, ask the pharmacist. Likewise, they need to carefully understand the product's "Warning" statement(s).

What properties does the Scapa Healthcare medicated powder formula have that contribute to relief and healing?
Some examples of Scapa's medicated powder formulas include active ingredients such as menthol (an external analgesic), and zinc oxide (a skin protectant) that help relieve the pain and itching associated with minor cuts, sunburn, insect bites, scrapes, prickly heat, minor burns, rashes, or minor skin irritations, while also drying the oozing and weeping phase of the healing process. We work with our customers to develop custom solutions based on their user needs.

With talc powders discontinued in the market, there is concern in consumers' minds about powders in general. How can Scapa Healthcare support customers that want to introduce powders to the market?
All of Scapa's medicated powder products are talc-free. Talc substitutes that are used in our products are asbestos-free and scrutinized to international quality standards regarding particle size (i.e., non-nano) as well as heavy metal restrictions and limitations. Naturally occurring starches such as non-GMO corn, rice, tapioca starches, and specially treated powders provide optimal moisture and sebum absorbance, that addresses specific consumer skin disorders and conditions.

In addition to the current applications, are there any other opportunities for medicated powders in the market?
Some of Scapa's more premium medicated powders contain: (i) peptides - for added skin rejuvenation benefits; (ii) liposomal ceramides - delayed release to reduce Trans Epidermal Water Loss (TEWL); (iii) probiotic extracts - to improve skin barrier integrity; (iv) exfoliation & cleansing properties combined with antimicrobial benefits (RE: benzethonium chloride as the active); and (v) a compound that is naturally-derived from renewable resources, 100% biodegradable, and effective against eliminating 99.9% of microorganisms that cause body/foot odors while also eliminating 100% of fungi that causes nail mycoses and athlete's foot fungi.

To learn more about Scapa Healthcare's topical skin solutions and medicated powder formulation capabilities from concept to market, click here.