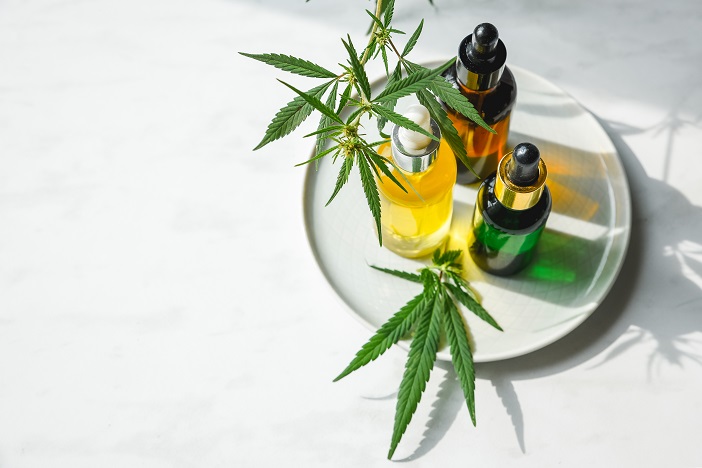 18 Mar, 2021
/
Category:
Consumer Wellness
CBD Topicals for Pain Management and Skin Care
Cannabidiol (commonly known as CBD) is one of the many cannabinoid compounds that can be derived from the cannabis plant. The CBD compound is typically extracted and added to a carrier oil to create CBD oil products.
CBD oil has been increasingly used due to a belief held by some that it can help regulate body functions such as pain, immune-system responses, and sleep. Perhaps, this belief is based on inferences that humans are equipped with a cell-signaling system, the endocannabinoid system (ECS), that is proposed to be potentially capable of accepting and translating signals from cannabinoids to essentially influence the body to use its internal endocannabinoids more efficiently.
One of the fastest-growing applications for CBD oil products today is pain management since, if proven effective, could offer a safer alternative to the potentially habit-forming medications often used to treat chronic pain. We interviewed Anthony Castrogiovanni, Site Manager, R&D / Regulatory Affairs at Scapa Dallas, to learn more about the formulation of CBD topicals and how they help with pain management and overall skin care.

1. Can you provide an overview on how CBD oil works to relieve pain?

There are nearly 20 known cannabinoids that can be derived from cultivated cannabis. Like these other cannabinoids, CBD is a biomimetic active compound due to its similarity with endogenous cannabinoids and, as such, reportedly works to relieve pain, as well as provide other potential benefits by acting on the human endocannabinoid system.
One of the most obvious potential skin care benefits of CBD is anti-inflammation, which may be the source of its reported pain-relieving attributes. Of course, we cannot definitively assert that it relieves pain since that would be a new drug claim. However, by its association with the widespread belief that all cannabis-related compounds have anti-inflammatory benefits, it is an inherent assumption by consumers that it can relieve pain.

2.How is CBD oil different from Hemp oil?

Hemp oil does not provide the same benefits as CBD oil, although it sometimes contains similar levels of CBD. However, hemp is decidedly different from CBD oil, and likely does not offer the same medical benefits. Unscrupulous sellers often market hemp oil as an alternative source of CBD, but there is little to no scientific evidence backing these claims.
Hemp oil typically has more of a light golden to a dark brown hue, whereas CBD oil appears to be green and dark. Using cold press extraction, hemp oil is produced from hemp seeds. It typically has a light green color and a nutty flavor, dark to translucent. Using CO2 or solvent-based extraction, CBD oil is produced from whole hemp plants.

3. What innovations are you seeing about the use of CBD in new topical solutions?

CBD, CBG, CBC, CBDV, and THCV from cultivated and biotech sources continue to gain momentum as topical skin care ingredients, and the development of designer cannabinoids are on the horizon. Combinations of CBD and other phytocannabinoids with OTC actives, as well as vitamins, extracts and caffeine to boost their efficacy, are also on the rise.
Recent scientific evidence suggests that CBD could protect the skin through an activation of antioxidant defenses, limit skin aging, and balance oily and acne-prone skin. Studies have also shown that CBD has great potential as a soothing ingredient for sensitive and stressed skin. These studies suggest that CBD could offer a natural solution for dermocosmetic applications such as psoriasis, atopic dermatitis and seborrheic dermatitis.
As stated in question number one above, CBD is a biomimetic active ingredient due to its similarity with endogenous cannabinoids, and as such, its potential interaction with the endocannabinoid system in skin may help promote skin homeostasis.
CBD Isolate Powder is a premium high-quality product, obtained by supercritical CO2 extraction, containing at least 98% cannabidiol, and having optimal activities for skin benefits. This new form is easier to formulate into a wider range of products.
Encapsulation of CBD to make it easier to formulate into a broader range of products, and render it more bioavailable, has further enhanced its potential efficacy in helping combat various skin conditions.

4. What unique factors need to be considered when creating topicals using CBD?

Despite the fact that legalization and regulations remain in flux around the world, the use of CBD in beauty products continues its phenomenal growth pattern.
Balance is key between the benefits consumers expect, the claims that can/can't be made about CBD from a regulatory perspective, and technological advancements that allow the alignment with both to create products that can compete in the beauty marketplace. Those technological advancements include the creative development of ingredients and product formulation strategies alike.
To help ensure that a brand will grow, focus needs to be placed on several factors, including: proper branding, a well-defined CBD marketing strategy, and product placement. Brand differentiation is an all-important element that can make or break a CBD marketing strategy. The health benefits of CBD are overwhelmingly diverse. The market should be the same.
It is also important to position your brand in a way that resonates well with your target customers. Craft your brand and products to better meet their preferences, solve their problems, and match their personalities.

5.Are there any special considerations or techniques recommended in the development of CBD topicals?

In terms of regulatory compliance, CBD purity with regard to guaranteed THC level is paramount. COSMOS approval by ECOCERT may be of greater importance to certain brands for the source of CBD utilized in their products.
It is vital that all stages of production are controlled, from cultivation methods of the CBD to the most advanced insulation processes.
To achieve the greatest efficacy from the product line, formulation strategies must include selection of the most effective carriers for CBD, as well as other cannabinoids. For example, functionalized hybrid cannabidiol (CBD) derivatives allow for greater compatibility in silicone-based formulations, as well as natural oils, while imparting a non-greasy and lubricious feel.
As mentioned previously in question 3 above, encapsulation technology of CBD alone and in combination with other ingredients such as extracts can enhance its potential efficacy in treating specific skin conditions.

6.What criteria should R&D/product development teams consider when selecting the right partner for the development/formulation of CBD topicals?

While production requires careful planning and execution, having the skills and awareness about CBD formulation processes, as well as up-to-date global regulatory/legislative issues, is essential for companies to succeed in developing their brands.
As a strategic partner, Scapa not only provides clients with innovative techniques and solutions, but also help explore key issues involved when developing a successful brand.

7. Can you discuss Scapa Healthcare's expertise in the manufacturing of CBD topicals and provide some high-level examples of products that have been created by the Scapa team?

Scapa has developed specialized manufacturing processes that encompass a bevy of product formulation types and systems, such as aqueous liquids/gels, surfactant-based cleansers, soaks, emulsions (water-in-oil, oil-in water and water-in silicone) and powders. Needless-to-say, all processes follow strict cGMP guidelines for manufacturing.

There are four areas of focus for Scapa during the development and launch of our clients' CBD topical brands: (1) material selection guidelines; (2) formulation considerations; (3) indications, science and claims; (4) legally compliant products and gold standards.

We have created multiple product lines suited for wellness and self-care brands that address topical pain management with solutions such as creams, muscle rubs and aromatic soaks. Some of these products combine CBD with OTC actives for broader claims and benefits that are highly effective in targeting specific muscle and joint aches and pains.

We have also developed entire product lines, combining CBD with other efficacious extracts, pre-/post-/probiotics and vitamins for targeted skin care benefits. Product forms have included eye serums, facial hydrating spritzers, body creams/lotions and foot sprays.